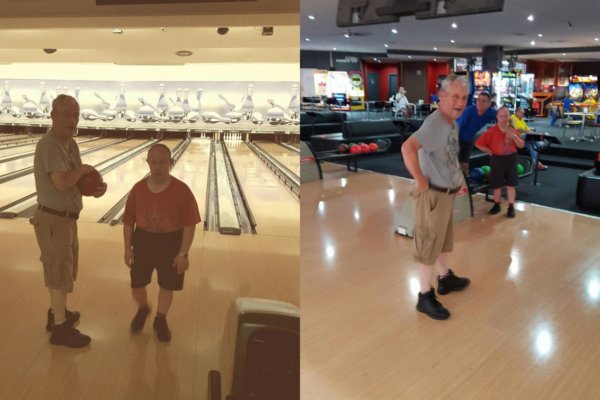 Every Wednesday there's a regular bowling competition at the local Recreation, Sports and Aquatic Club association just for Sunnyhaven. It's a great opportunity for the clients to socialise & create and maintain networks. Below is a story of a regular Wednesday night to illustrate the excitement it creates for everyone.
You can almost feel the excitement in the air as Wednesday approaches. Stretching, lunges and hands on hips, anything to achieve the perfect bowling posture as the men got limbered up. Wednesday is approaching and the Strike Kings are getting ready to come out and play.
"Mate, I reckon you're probably not gonna get more than 50 points tonight!" was boldly proclaimed as the room is filled with deep laughter, kicking off the fun for the night.
As the pins crashed and the friends cheered, it was apparent that Alan was right. Victor struggled to barely make it pass 50 points, he would not have made it if not for a lucky strike he got in the third frame. Victor had been experimenting with the different techniques he acquired from diligently watching how-to videos on YouTube. Careful not to let any of the men catch him trying to improve his game.
Massaging his tired fingers, Victor wore a tired smile of satisfaction, appreciating every second being able to spend socializing and creating networks with his friends. He knew he could take comfort in the fact that he was miles better in the next event, dinner.
Victor was eager to find out with Richard if the restaurant's new "flame grilled rib eye on the bone" could have possibly been better than their usual choice of Angus porterhouse with chips. Richard had volunteered bravely to sway from their regular Wednesday night dinner choice after watching the advertisement showcasing the rib eye on the bone, dripping with juices over a bed of hot coals.
"Next time we watch the footy, let's turn off the TV when the ads come on" Richard sighed as he shrugged his shoulders and sank into his chair, Victor could only laugh and sank his teeth into their juicy favourite.
The laughter and good times continued as the night slowly took its toll on the Kings. Alan decreed with a loud yawn that it was past his bedtime. Rubbing their bellies, the royals looked at each other and bid their farewells with satisfaction. Exchanging their robes and crowns for their pyjamas, the kings looked forward to the coming Wednesday.