WHAT IS THE NDIS?
The NDIS is a nation-wide scheme here to help you. It's a social reform on the same scale as Medicare. Clients and their families now have the power to choose and control the services that work best for them.
Sunnyhaven is proud to be a certified disability service provider for this life-changing transition.
Clients and their families will receive the specialised support they deserve and be empowered
to take control of their lives and become their sunniest self.
CHOOSING SUNNYHAVEN AS A NDIS SERVICE PROVIDER
Choosing Sunnyhaven as your NDIS service provider is easy. We have a wide range of flexible services available for you and your family that are covered by NDIS funding.
We will support you in learning life skills, making friends, and being part of the community. Discovering your goals is an important step towards independence and finding your Sunny side. We are here to support you.
Our supportive, experienced and caring team can help you achieve your goals with the following services under the NDIS:
Community Connexion services
Adult Speech & Psychology therapy
Accommodation services
Supported Independent Living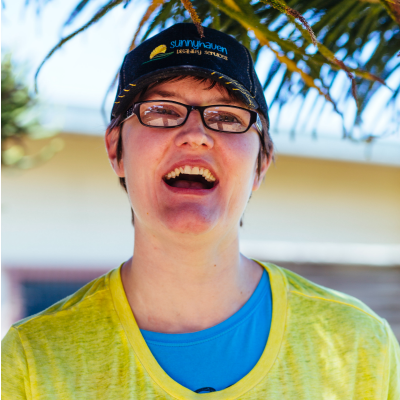 SUPPORT TO BEGIN YOUR NDIS JOURNEY?
Taking those first few steps on your NDIS journey can be challenging. Sunnyhaven is here to help you understand the NDIS and apply with confidence!
Sunnyhaven will check your eligibility and help you prepare the necessary documents. We also provide you with the relevant information & resources to assist you when you meet your National Disability Insurance Agency (NDIA) planner for the first time.
We will help you discover your goals and develop a plan you can put into action.
You can contact us via our website or call us on 02 9588 5433.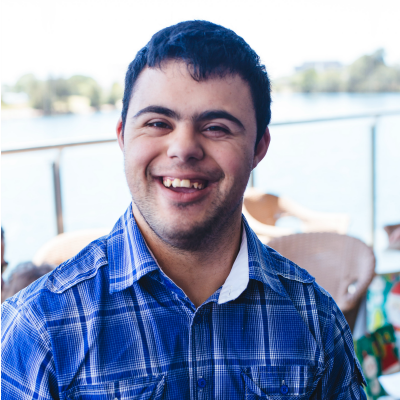 SUNNY VIDEOS
As part of the arts, craft and media time at Sunnyhaven, we encourage our clients to be creative. A local film production team comes into Sunnyhaven to help the clients make fun videos of the community and create artistic adventures.
| Support Item | Description | UOM | Quote | Price |
| --- | --- | --- | --- | --- |
| 01_002_0107_1_1_T | Assistance with Self-Care Activities - Standard - Weekday Night - TTP | Hourly | No | $67.03 |
| 01_010_0107_1_1 | Assistance with Self-Care Activities - Night-Time Sleepover | E | No | $242.95 |
| 01_011_0107_1_1_T | Assistance with Self-Care Activities - Standard - Weekday Daytime - TTP | Hourly | No | $59.81 |
| 01_012_0107_1_1_T | Assistance with Self-Care Activities - Standard - Public Holiday - TTP | Hourly | No | $132.09 |
| 01_013_0107_1_1_T | Assistance with Self-Care Activities - Standard - Saturday - TTP | Hourly | No | $83.89 |
| 01_014_0107_1_1_T | Assistance with Self-Care Activities - Standard - Sunday - TTP | Hourly | No | $107.99 |
| 01_015_0107_1_1_T | Assistance with Self-Care Activities - Standard - Weekday Evening - TTP | Hourly | No | $65.82 |
| 01_027_0115_1_1 | Assistance in A Shared Living Arrangement | E | Yes | |
| 01_045_0115_1_1 | STA And Assistance (Inc. Respite) - 1:4 - Weekday | Daily | No | $582.93 |
| 01_046_0115_1_1 | Assistance in Individual Living Arrangement for Person with Complex Needs | E | Yes | |
| 01_049_0104_1_1 | Establishment Fee for Personal Care/Participation | E | No | $572.30 |
| 01_049_0107_1_1 | Establishment Fee for Personal Care/Participation | E | No | $572.30 |
| 01_051_0115_1_1 | STA And Assistance (Inc. Respite) - 1:4 - Saturday | Daily | No | $705.35 |
| 01_052_0115_1_1 | STA And Assistance (Inc. Respite) - 1:4 - Sunday | Daily | No | $855.29 |
| 01_053_0115_1_1 | STA And Assistance (Inc. Respite) - 1:4 - Public Holiday | Daily | No | $1,005.17 |
| 01_054_0115_1_1 | STA And Assistance (Inc. Respite) - 1:2 - Weekday | Daily | No | $982.45 |
| 01_055_0115_1_1 | STA And Assistance (Inc. Respite) - 1:2 - Saturday | Daily | No | $1,227.29 |
| 01_056_0115_1_1 | STA And Assistance (Inc. Respite) - 1:2 - Sunday | Daily | No | $1,527.17 |
| 01_057_0115_1_1 | STA And Assistance (Inc. Respite) - 1:2 - Public Holiday | Daily | No | $1,826.93 |
| 01_058_0115_1_1 | STA And Assistance (Inc. Respite) - 1:1 - Weekday | Daily | No | $1,781.49 |
| 01_059_0115_1_1 | STA And Assistance (Inc. Respite) - 1:1 - Saturday | Daily | No | $2,271.17 |
| 01_060_0115_1_1 | STA And Assistance (Inc. Respite) - 1:1 - Sunday | Daily | No | $2,870.93 |
| 01_061_0115_1_1 | STA And Assistance (Inc. Respite) - 1:1 - Public Holiday | Daily | No | $3,470.45 |
| 01_062_0115_1_1 | STA And Assistance (Inc. Respite) - 1:3 - Weekday | Daily | No | $716.10 |
| 01_063_0115_1_1 | STA And Assistance (Inc. Respite) - 1:3 - Saturday | Daily | No | $879.33 |
| 01_064_0115_1_1 | STA And Assistance (Inc. Respite) - 1:3 - Sunday | Daily | No | $1,079.25 |
| 01_065_0115_1_1 | STA And Assistance (Inc. Respite) - 1:3 - Public Holiday | Daily | No | $1,279.09 |
| 01_082_0115_1_1 | Medium Term Accommodation | Daily | No | $130.49 |
| 01_200_0115_1_1 | Assistance with Self-Care Activities in a STA - Weekday Daytime | Hourly | No | $57.23 |
| 01_201_0115_1_1 | Assistance with Self-Care Activities in a STA - Weekday Evening | Hourly | No | $62.99 |
| 01_202_0115_1_1 | Assistance with Self-Care Activities in a STA - Saturday | Hourly | No | $80.28 |
| 01_203_0115_1_1 | Assistance with Self-Care Activities in a STA - Sunday | Hourly | No | $103.34 |
| 01_204_0115_1_1 | Assistance with Self-Care Activities in a STA - Public Holiday | Hourly | No | $126.40 |
| 01_205_0115_1_1 | Assistance with Self-Care Activities in a STA - Weekday Night | Hourly | No | $64.14 |
| 01_300_0104_1_1_T | Assistance with Self-Care Activities - Level 1 - Weekday Daytime - TTP | Hourly | No | $59.81 |
| 01_301_0104_1_1_T | Assistance with Self-Care Activities - Level 1 - Weekday Evening - TTP | Hourly | No | $65.82 |
| 01_302_0104_1_1_T | Assistance with Self-Care Activities - Level 1 - Saturday - TTP | Hourly | No | $83.89 |
| 01_303_0104_1_1_T | Assistance with Self-Care Activities - Level 1 - Sunday - TTP | Hourly | No | $107.99 |
| 01_304_0104_1_1_T | Assistance with Self-Care Activities - Level 1 - Public Holiday - TTP | Hourly | No | $132.09 |
| 01_305_0104_1_1_T | Assistance with Self-Care Activities - Level 1 - Weekday Night - TTP | Hourly | No | $67.03 |
| 01_400_0104_1_1_T | Assistance with Self-Care Activities - Level 2 - Weekday Daytime - TTP | Hourly | No | $64.50 |
| 01_401_0104_1_1_T | Assistance with Self-Care Activities - Level 2 - Weekday Evening - TTP | Hourly | No | $70.99 |
| 01_402_0104_1_1_T | Assistance with Self-Care Activities - Level 2 - Saturday - TTP | Hourly | No | $90.49 |
| 01_403_0104_1_1_T | Assistance with Self-Care Activities - Level 2 - Sunday - TTP | Hourly | No | $116.48 |
| 01_404_0104_1_1_T | Assistance with Self-Care Activities - Level 2 - Public Holiday - TTP | Hourly | No | $142.47 |
| 01_405_0104_1_1_T | Assistance with Self-Care Activities - Level 2 - Weekday Night - TTP | Hourly | No | $72.30 |
| 01_500_0104_1_1_T | Assistance with Self-Care Activities - Level 3 - Weekday Daytime - TTP | Hourly | No | $67.81 |
| 01_501_0104_1_1_T | Assistance with Self-Care Activities - Level 3 - Weekday Evening - TTP | Hourly | No | $74.63 |
| 01_502_0104_1_1_T | Assistance with Self-Care Activities - Level 3 - Saturday - TTP | Hourly | No | $95.13 |
| 01_503_0104_1_1_T | Assistance with Self-Care Activities - Level 3 - Sunday - TTP | Hourly | No | $122.45 |
| 01_504_0104_1_1_T | Assistance with Self-Care Activities - Level 3 - Public Holiday - TTP | Hourly | No | $149.78 |
| 01_505_0104_1_1_T | Assistance with Self-Care Activities - Level 3 - Weekday Night - TTP | Hourly | No | $76.01 |
| 01_795_0104_1_1 | COVID-19 Cleaning Services | E | No | $300.00 |
| 01_795_0107_1_1 | COVID-19 Cleaning Services | E | No | $300.00 |
| 01_795_0115_1_1 | COVID-19 SIL Cleaning Services | E | No | $300.00 |
| 01_796_0115_1_1 | COVID-19 SIL Additional Supports | D | No | $1,200.00 |
| 01_799_0104_1_1 | Provider travel - non-labour costs | E | No | $1.00 |
| 01_799_0106_1_1 | Provider travel - non-labour costs | E | No | $1.00 |
| 01_799_0107_1_1 | Provider travel - non-labour costs | E | No | $1.00 |
| 01_799_0115_1_1 | Provider travel - non-labour costs | E | No | $1.00 |
| 01_799_0117_8_1 | Provider travel - non-labour costs | E | No | $1.00 |
| 01_799_0132_1_1 | Provider travel - non-labour costs | E | No | $1.00 |
| 01_801_0115_1_1 | Assistance in Supported independent Living - Standard - Weekday Daytime | Hourly | No | $57.30 |
| 01_802_0115_1_1 | Assistance in Supported independent Living - Standard - Weekday Evening | Hourly | No | $63.07 |
| 01_803_0115_1_1 | Assistance in Supported independent Living - Standard - Weekday Night | Hourly | No | $64.23 |
| 01_804_0115_1_1 | Assistance in Supported independent Living - Standard - Saturday | Hourly | No | $80.39 |
| 01_805_0115_1_1 | Assistance in Supported independent Living - Standard - Sunday | Hourly | No | $103.48 |
| 01_806_0115_1_1 | Assistance in Supported independent Living - Standard - Public Holiday | Hourly | No | $126.56 |
| 01_811_0115_1_1 | Assistance in Supported Independent Living - High Intensity -Weekday Daytime | Hourly | No | $62.01 |
| 01_812_0115_1_1 | Assistance in Supported Independent Living - High Intensity -Weekday Evening | Hourly | No | $68.25 |
| 01_813_0115_1_1 | Assistance in Supported Independent Living - High Intensity -Weekday Night | Hourly | No | $69.50 |
| 01_814_0115_1_1 | Assistance in Supported Independent Living - High Intensity - Saturday | Hourly | No | $86.99 |
| 01_815_0115_1_1 | Assistance in Supported Independent Living - High Intensity - Sunday | Hourly | No | $111.98 |
| 01_816_0115_1_1 | Assistance in Supported Independent Living - High Intensity -Public Holiday | Hourly | No | $136.96 |
| 01_832_0115_1_1 | Assistance in Supported independent Living - Night-Time Sleepover | E | No | $243.22 |
| 04_049_0104_1_1 | Establishment Fee for Personal Care/Participation | E | No | $572.30 |
| 04_049_0125_1_1 | Establishment Fee for Personal Care/Participation | E | No | $572.30 |
| 04_049_0133_5_1 | Establishment Fee for Personal Care/Participation | E | No | $572.30 |
| 04_049_0136_1_1 | Establishment Fee for Personal Care/Participation | E | No | $572.30 |
| 04_102_0125_6_1_T | Access Community Social and Rec Activities - Public Holiday - TTP | Hourly | No | $132.09 |
| 04_102_0136_6_1_T | Group Activities - Standard - Weekday Daytime - TTP | Hourly | No | $59.88 |
| 04_103_0125_6_1_T | Access Community Social and Rec Activities - Standard - Weekday Evening-TTP | Hourly | No | $65.82 |
| 04_103_0136_6_1_T | Group Activities - Standard - Weekday Evening - TTP | Hourly | No | $65.91 |
| 04_104_0125_6_1_T | Access Community Social and Rec Activities - Weekday Daytime - TTP | Hourly | No | $59.81 |
| 04_104_0136_6_1_T | Group Activities - Standard - Saturday - TTP | Hourly | No | $84.01 |
| 04_105_0125_6_1_T | Access Community Social and Rec Activities - Standard - Saturday - TTP | Hourly | No | $83.89 |
| 04_105_0136_6_1_T | Group Activities - Standard - Sunday - TTP | Hourly | No | $108.14 |
| 04_106_0125_6_1_T | Access Community Social and Rec Activities - Standard - Sunday - TTP | Hourly | No | $107.99 |
| 04_106_0136_6_1_T | Group Activities - Standard - Public Holiday - TTP | Hourly | No | $132.26 |
| 04_111_0136_6_1_T | Group Activities in The Community - 1:2 - Standard - Weekday Daytime-TTP | Hourly | No | $33.53 |
| 04_112_0136_6_1_T | Group Activities in The Community - 1:2 - Standard - Saturday - TTP | Hourly | No | $47.05 |
| 04_113_0136_6_1_T | Group Activities in The Community - 1:2 - Standard - Sunday - TTP | Hourly | No | $60.56 |
| 04_114_0136_6_1_T | Group Activities in The Community - 1:2 - Standard - Weekday Afternoon-TTP | Hourly | No | $36.91 |
| 04_116_0104_6_1_T | Group Activities in The Community - 1:2 - Complex - Weekday Daytime -TTP | Hourly | No | $36.17 |
| 04_117_0104_6_1_T | Group Activities in The Community - 1:2 - Complex - Saturday - TTP | Hourly | No | $50.74 |
| 04_118_0104_6_1_T | Group Activities in The Community - 1:2 - Complex - Sunday - TTP | Hourly | No | $65.32 |
| 04_119_0104_6_1_T | Group Activities in The Community - 1:2 - Complex - Weekday Afternoon-TTP | Hourly | No | $39.81 |
| 04_120_0136_6_1_T | Group Activities in The Community - 1:3 - Standard - Weekday Daytime-TTP | Hourly | No | $24.75 |
| 04_121_0136_6_1_T | Group Activities in The Community - 1:3 - Standard - Saturday - TTP | Hourly | No | $34.72 |
| 04_122_0136_6_1_T | Group Activities in The Community - 1:3 - Standard - Sunday - TTP | Hourly | No | $44.70 |
| 04_123_0136_6_1_T | Group Activities in The Community - 1:3 - Standard - Weekday Afternoon-TTP | Hourly | No | $27.24 |
| 04_124_0104_6_1_T | Group Activities in The Community - 1:3 - Complex - Weekday Daytime -TTP | Hourly | No | $26.70 |
| 04_125_0104_6_1_T | Group Activities in The Community - 1:3 - Complex - Saturday - TTP | Hourly | No | $37.45 |
| 04_126_0104_6_1_T | Group Activities in The Community - 1:3 - Complex - Sunday - TTP | Hourly | No | $48.21 |
| 04_127_0104_6_1_T | Group Activities in The Community - 1:3 - Complex - Weekday Afternoon-TTP | Hourly | No | $29.38 |
| 04_128_0136_6_1_T | Group Activities in The Community - 1:2 - Standard - Public Holiday -TTP | Hourly | No | $74.07 |
| 04_129_0136_6_1_T | Group Activities in The Community - 1:3 - Standard - Public Holiday -TTP | Hourly | No | $54.67 |
| 04_130_0104_6_1_T | Group Activities in The Community - 1:2 - Complex - Public Holiday - TTP | Hourly | No | $79.89 |
| 04_131_0104_6_1_T | Group Activities in The Community - 1:3 - Complex - Public Holiday - TTP | Hourly | No | $58.97 |
| 04_136_0136_6_1_T | Group Activities in The Community - 1:4 - Standard - Weekday Daytime-TTP | Hourly | No | $20.36 |
| 04_137_0136_6_1_T | Group Activities in The Community - 1:4 - Standard - Weekday Afternoon-TTP | Hourly | No | $22.41 |
| 04_138_0136_6_1_T | Group Activities in The Community - 1:4 - Standard - Saturday - TTP | Hourly | No | $28.56 |
| 04_139_0136_6_1_T | Group Activities in The Community - 1:4 - Standard - Sunday - TTP | Hourly | No | $36.77 |
| 04_140_0136_6_1_T | Group Activities in The Community - 1:4 - Standard - Public Holiday -TTP | Hourly | No | $44.97 |
| 04_141_0136_6_1_T | Group Activities in The Community - 1:5 - Standard - Weekday Daytime-TTP | Hourly | No | $17.72 |
| 04_142_0136_6_1_T | Group Activities in The Community - 1:5 - Standard - Weekday Afternoon-TTP | Hourly | No | $19.51 |
| 04_143_0136_6_1_T | Group Activities in The Community - 1:5 - Standard - Saturday - TTP | Hourly | No | $24.87 |
| 04_144_0136_6_1_T | Group Activities in The Community - 1:5 - Standard - Sunday - TTP | Hourly | No | $32.01 |
| 04_145_0136_6_1_T | Group Activities in The Community - 1:5 - Standard - Public Holiday -TTP | Hourly | No | $39.15 |
| 04_146_0104_6_1_T | Group Activities in The Community - 1:4 - Complex - Weekday Daytime -TTP | Hourly | No | $21.96 |
| 04_147_0104_6_1_T | Group Activities in The Community - 1:4 - Complex - Weekday Afternoon-TTP | Hourly | No | $24.17 |
| 04_148_0104_6_1_T | Group Activities in The Community - 1:4 - Complex - Saturday - TTP | Hourly | No | $30.81 |
| 04_149_0104_6_1_T | Group Activities in The Community - 1:4 - Complex - Sunday - TTP | Hourly | No | $39.66 |
| 04_150_0104_6_1_T | Group Activities in The Community - 1:4 - Complex - Public Holiday - TTP | Hourly | No | $48.50 |
| 04_151_0104_6_1_T | Group Activities in The Community - 1:5 - Complex - Weekday Daytime -TTP | Hourly | No | $19.12 |
| 04_152_0104_6_1_T | Group Activities in The Community - 1:5 - Complex - Weekday Afternoon-TTP | Hourly | No | $21.04 |
| 04_153_0104_6_1_T | Group Activities in The Community - 1:5 - Complex - Saturday - TTP | Hourly | No | $26.82 |
| 04_154_0104_6_1_T | Group Activities in The Community - 1:5 - Complex - Sunday - TTP | Hourly | No | $34.53 |
| 04_155_0104_6_1_T | Group Activities in The Community - 1:5 - Complex - Public Holiday - TTP | Hourly | No | $42.23 |
| 04_160_0136_6_1_T | Group Activities in A Centre - 1:1 - Standard - Weekday Daytime - TTP | Hourly | No | $62.05 |
| 04_161_0136_6_1_T | Group Activities in A Centre - 1:1 - Standard - Weekday Afternoon - TTP | Hourly | No | $68.08 |
| 04_162_0136_6_1_T | Group Activities in A Centre - 1:1 - Standard - Saturday - TTP | Hourly | No | $86.18 |
| 04_163_0136_6_1_T | Group Activities in A Centre - 1:1 - Standard - Sunday - TTP | Hourly | No | $110.31 |
| 04_164_0136_6_1_T | Group Activities in A Centre - 1:1 - Standard - Public Holiday - TTP | Hourly | No | $134.43 |
| 04_165_0136_6_1_T | Group Activities in A Centre - 1:2 - Standard - Weekday Daytime - TTP | Hourly | No | $35.70 |
| 04_166_0136_6_1_T | Group Activities in A Centre - 1:2 - Standard - Weekday Afternoon - TTP | Hourly | No | $39.08 |
| 04_167_0136_6_1_T | Group Activities in A Centre - 1:2 - Standard - Saturday - TTP | Hourly | No | $49.22 |
| 04_168_0136_6_1_T | Group Activities in A Centre - 1:2 - Standard - Sunday - TTP | Hourly | No | $62.73 |
| 04_169_0136_6_1_T | Group Activities in A Centre - 1:2 - Standard - Public Holiday - TTP | Hourly | No | $76.24 |
| 04_170_0136_6_1_T | Group Activities in A Centre - 1:3 - Standard - Weekday Daytime - TTP | Hourly | No | $26.92 |
| 04_171_0136_6_1_T | Group Activities in A Centre - 1:3 - Standard - Weekday Afternoon - TTP | Hourly | No | $29.41 |
| 04_172_0136_6_1_T | Group Activities in A Centre - 1:3 - Standard - Saturday - TTP | Hourly | No | $36.89 |
| 04_173_0136_6_1_T | Group Activities in A Centre - 1:3 - Standard - Sunday - TTP | Hourly | No | $46.87 |
| 04_174_0136_6_1_T | Group Activities in A Centre - 1:3 - Standard - Public Holiday - TTP | Hourly | No | $56.84 |
| 04_175_0136_6_1_T | Group Activities in A Centre - 1:4 - Standard - Weekday Daytime - TTP | Hourly | No | $22.53 |
| 04_176_0136_6_1_T | Group Activities in A Centre - 1:4 - Standard - Weekday Afternoon - TTP | Hourly | No | $24.58 |
| 04_177_0136_6_1_T | Group Activities in A Centre - 1:4 - Standard - Saturday - TTP | Hourly | No | $30.73 |
| 04_178_0136_6_1_T | Group Activities in A Centre - 1:4 - Standard - Sunday - TTP | Hourly | No | $38.94 |
| 04_179_0136_6_1_T | Group Activities in A Centre - 1:4 - Standard - Public Holiday - TTP | Hourly | No | $47.14 |
| 04_180_0136_6_1_T | Group Activities in A Centre - 1:5 - Standard - Weekday Daytime - TTP | Hourly | No | $19.89 |
| 04_181_0136_6_1_T | Group Activities in A Centre - 1:5 - Standard - Weekday Afternoon - TTP | Hourly | No | $21.68 |
| 04_182_0136_6_1_T | Group Activities in A Centre - 1:5 - Standard - Saturday - TTP | Hourly | No | $27.04 |
| 04_183_0136_6_1_T | Group Activities in A Centre - 1:5 - Standard - Sunday - TTP | Hourly | No | $34.18 |
| 04_184_0136_6_1_T | Group Activities in A Centre - 1:5 - Standard - Public Holiday - TTP | Hourly | No | $41.32 |
| 04_185_0104_6_1_T | Group Activities in A Centre - 1:1 - Complex - Weekday Daytime - TTP | Hourly | No | $66.76 |
| 04_186_0104_6_1_T | Group Activities in A Centre - 1:1 - Complex - Weekday Afternoon - TTP | Hourly | No | $73.26 |
| 04_187_0104_6_1_T | Group Activities in A Centre - 1:1 - Complex - Saturday - TTP | Hourly | No | $92.78 |
| 04_188_0104_6_1_T | Group Activities in A Centre - 1:1 - Complex - Sunday - TTP | Hourly | No | $118.81 |
| 04_189_0104_6_1_T | Group Activities in A Centre - 1:1 - Complex - Public Holiday - TTP | Hourly | No | $144.83 |
| 04_190_0104_6_1_T | Group Activities in A Centre - 1:2 - Complex - Weekday Daytime - TTP | Hourly | No | $38.34 |
| 04_191_0104_6_1_T | Group Activities in A Centre - 1:2 - Complex - Weekday Afternoon - TTP | Hourly | No | $41.98 |
| 04_192_0104_6_1_T | Group Activities in A Centre - 1:2 - Complex - Saturday - TTP | Hourly | No | $52.91 |
| 04_193_0104_6_1_T | Group Activities in A Centre - 1:2 - Complex - Sunday - TTP | Hourly | No | $67.49 |
| 04_194_0104_6_1_T | Group Activities in A Centre - 1:2 - Complex - Public Holiday - TTP | Hourly | No | $82.06 |
| 04_195_0104_6_1_T | Group Activities in A Centre - 1:3 - Complex - Weekday Daytime - TTP | Hourly | No | $28.87 |
| 04_196_0104_6_1_T | Group Activities in A Centre - 1:3 - Complex - Weekday Afternoon - TTP | Hourly | No | $31.55 |
| 04_197_0104_6_1_T | Group Activities in A Centre - 1:3 - Complex - Saturday - TTP | Hourly | No | $39.62 |
| 04_198_0104_6_1_T | Group Activities in A Centre - 1:3 - Complex - Sunday - TTP | Hourly | No | $50.38 |
| 04_199_0104_6_1_T | Group Activities in A Centre - 1:3 - Complex - Public Holiday - TTP | Hourly | No | $61.14 |
| 04_200_0104_6_1_T | Group Activities in A Centre - 1:4 - Complex - Weekday Daytime - TTP | Hourly | No | $24.13 |
| 04_201_0104_6_1_T | Group Activities in A Centre - 1:4 - Complex - Weekday Afternoon - TTP | Hourly | No | $26.34 |
| 04_202_0104_6_1_T | Group Activities in A Centre - 1:4 - Complex - Saturday - TTP | Hourly | No | $32.98 |
| 04_203_0104_6_1_T | Group Activities in A Centre - 1:4 - Complex - Sunday - TTP | Hourly | No | $41.83 |
| 04_204_0104_6_1_T | Group Activities in A Centre - 1:4 - Complex - Public Holiday - TTP | Hourly | No | $50.67 |
| 04_205_0104_6_1_T | Group Activities in A Centre - 1:5 - Complex - Weekday Daytime - TTP | Hourly | No | $21.29 |
| 04_206_0104_6_1_T | Group Activities in A Centre - 1:5 - Complex - Weekday Afternoon - TTP | Hourly | No | $23.21 |
| 04_207_0104_6_1_T | Group Activities in A Centre - 1:5 - Complex - Saturday - TTP | Hourly | No | $28.99 |
| 04_208_0104_6_1_T | Group Activities in A Centre - 1:5 - Complex - Sunday - TTP | Hourly | No | $36.70 |
| 04_209_0104_6_1_T | Group Activities in A Centre - 1:5 - Complex - Public Holiday - TTP | Hourly | No | $44.40 |
| 04_210_0125_6_1 | Community Social and Recreational Activities | E | No | |
| 04_300_0104_1_1_T | Access Community Social and Rec Activities - Level 1 - Weekday Daytime-TTP | Hourly | No | $59.81 |
| 04_301_0104_1_1_T | Access Community Social and Rec Activities - Level 1 - Weekday Evening-TTP | Hourly | No | $65.82 |
| 04_302_0104_1_1_T | Access Community Social and Rec Activities - Level 1 - Saturday - TTP | Hourly | No | $83.89 |
| 04_303_0104_1_1_T | Access Community Social and Rec Activities - Level 1 - Sunday - TTP | Hourly | No | $107.99 |
| 04_304_0104_1_1_T | Access Community Social and Rec Activities - Level 1 - Public Holiday-TTP | Hourly | No | $132.09 |
| 04_400_0104_1_1_T | Access Community Social and Rec Activities - Level 2 - Weekday Daytime-TTP | Hourly | No | $64.50 |
| 04_401_0104_1_1_T | Access Community Social and Rec Activities - Level 2 - Weekday Evening-TTP | Hourly | No | $70.99 |
| 04_402_0104_1_1_T | Access Community Social and Rec Activities - Level 2 - Saturday - TTP | Hourly | No | $90.49 |
| 04_403_0104_1_1_T | Access Community Social and Rec Activities - Level 2 - Sunday - TTP | Hourly | No | $116.48 |
| 04_404_0104_1_1_T | Access Community Social and Rec Activities - Level 2 - Public Holiday-TTP | Hourly | No | $142.47 |
| 04_500_0104_1_1_T | Access Community Social and Rec Activities - Level 3 - Weekday Daytime-TTP | Hourly | No | $67.81 |
| 04_501_0104_1_1_T | Access Community Social and Rec Activities - Level 3 - Weekday Evening-TTP | Hourly | No | $74.63 |
| 04_502_0104_1_1_T | Access Community Social and Rec Activities - Level 3 - Saturday - TTP | Hourly | No | $95.13 |
| 04_503_0104_1_1_T | Access Community Social and Rec Activities - Level 3 - Sunday - TTP | Hourly | No | $122.45 |
| 04_504_0104_1_1_T | Access Community Social and Rec Activities - Level 3 - Public Holiday-TTP | Hourly | No | $149.78 |
| 04_590_0125_6_1 | Activity Based Transport | E | No | $1.00 |
| 04_591_0136_6_1 | Activity Based Transport | E | No | $1.00 |
| 04_592_0104_6_1 | Activity Based Transport | E | No | $1.00 |
| 04_599_0104_6_1 | Centre Capital Cost | Hourly | No | $2.17 |
| 04_599_0133_5_1 | Centre Capital Cost | Hourly | No | $2.17 |
| 04_599_0136_6_1 | Centre Capital Cost | Hourly | No | $2.17 |
| 04_600_0104_6_1 | Group Activities - High Intensity - Weekday Daytime | Hourly | No | $62.01 |
| 04_600_0104_6_1_T | Group Activities - High Intensity - Weekday Daytime - TTP | Hourly | No | $64.59 |
| 04_601_0104_6_1 | Group Activities - High Intensity - Weekday Evening | Hourly | No | $68.25 |
| 04_601_0104_6_1_T | Group Activities - High Intensity - Weekday Evening - TTP | Hourly | No | $71.09 |
| 04_602_0104_6_1 | Group Activities - High Intensity - Saturday | Hourly | No | $86.99 |
| 04_602_0104_6_1_T | Group Activities - High Intensity - Saturday - TTP | Hourly | No | $90.61 |
| 04_603_0104_6_1 | Group Activities - High Intensity - Sunday | Hourly | No | $111.98 |
| 04_603_0104_6_1_T | Group Activities - High Intensity - Sunday - TTP | Hourly | No | $116.64 |
| 04_604_0104_6_1 | Group Activities - High Intensity - Public Holiday | Hourly | No | $136.96 |
| 04_604_0104_6_1_T | Group Activities - High Intensity - Public Holiday - TTP | Hourly | No | $142.66 |
| 06_431_0131_2_2 | Specialist Disability Accommodation (SDA) | E | Yes | |
| 06_432_0131_2_2 | SDA Vacancy - Person-Specific Adjustment | E | Yes | |
| 07_001_0106_8_3 | Level 1: Support Connection | Hourly | No | $65.09 |
| 07_002_0106_8_3 | Level 2: Coordination of Supports | Hourly | No | $100.14 |
| 07_003_0117_8_3 | CB and Training in Plan and Financial Management by a Support Coordinator | Hourly | No | $65.09 |
| 07_004_0132_8_3 | Level 3: Specialist Support Coordination | Hourly | No | $190.54 |
| | | | | |