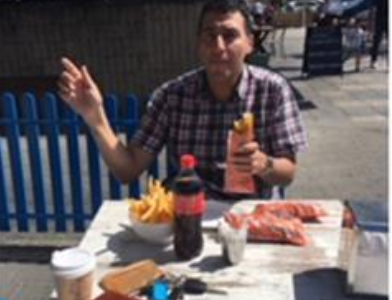 Lunch is definitely an important meal of the day and there's nothing like having a good big lunch on a warm sunny day, al fresco style!
Here at Sunnyhaven, we love taking our clients outside even just for a walk and a quick bite. We find that it allows them to recharge and even socialize with others. And just the other day, we took Giuseppe for a nice lunch out so he too can relax and take a break from his regular routine.
The sun was shining brightly that day, so we headed to Brighton for lunch so Giuseppe can not only enjoy a yummy meal but also soak up the sun and enjoy some of the views that the place has to offer.
We arrived at Brighton shortly after 12 noon and we can tell Giuseppe was a bit hungry already. And so after checking a few cafes, Giuseppe chose the one that he liked the most and ordered one big meal: french fries, filet-o-fish sandwich, and a soda. We're very happy to see him enjoy his food while basking in the sun, sound, and sights around him. He loved the food so much that he even had a takeaway with him.
After lunch, we then took a short stroll and visited the beach. We walked along the shore and enjoyed looking at the colourful beach boxes before heading back home – a nice and simple way of capping off a lovely lunch out.