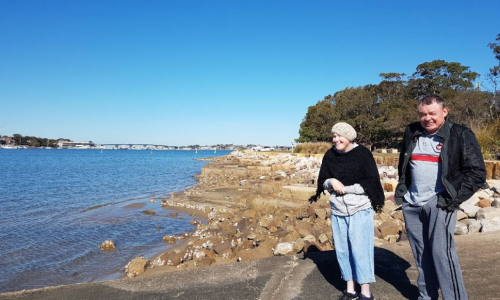 Much like our other clients, Chris and Peta both love the outdoors and are always excited whenever we plan trips to the seaside or parks. And just the other day, we went with them to Carss Park for an afternoon of unwinding. The fresh breeze and the scenery are very calming, and a return to nature can always do a great good to one's physical and mental well-being.
The skies were clear and the sun was up, so we thought of bringing some refreshments for a small picnic. Chris and Peta brought their favourite sandwiches and juice with them, and we also brought some fresh fruits for desserts. The park has a lot of great shade spots and we settled under one of the bigger trees where we ate our snacks.
After the picnic, we then walked around the park and enjoyed the rest of the views. Chris and Peta chased some pigeons, played on the swings, looked at the beautiful flowers in bloom and strolled along the sandy beach. They were also thrilled to see other families with their children spending time together.
Chris and Peta joined a number of activities during the week at Sunnyhaven, and a visit to Carrs Park was indeed a great way for them to relax – a simple nice reward for a job well done!