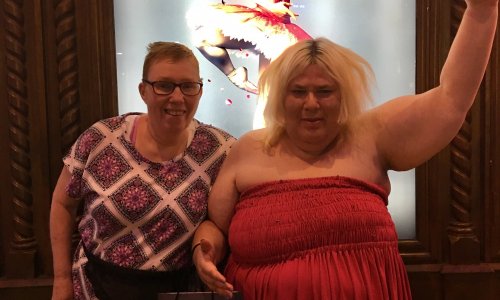 Helen and Teresa had fun watching the Swan Lake Ballet last weekend. It was a relaxing night that filled them with glee as they watched the beautiful dancers at the Capitol Theatre in awe. The two were very big enthusiasts of ballet. In fact, they had been very keen on asking our staff weeks prior if the show has been approved already. So when it got official,  Helen and Teresa just praised and applauded happily as they were really excited to watch the show.
Eating was not allowed inside the auditorium and so they went to get an early feast which they relished very much. The duo was enthusiastic and couldn't stop talking about the joy that awaits.
Upon their arrival at the Capitol Theatre, their eyes brimmed with amusement as the remarkable place was undoubtedly built just to give happiness to people.
All the performers in the ballet were very artistic and precise with their movements. They bring onto the stage the air of a life outside the theatre. Helen and Teresa were so amazed and could not get their eyes off them. The only time they would talk is when the curtains go down for the next act. The two expressed how much this ballet had been the best performance they have witnessed in their lives and our staff couldn't agree more.
 The Capitol Theatre was very historic and beautiful as well. It was the greatest setting for ballets and performances and its atmosphere added a huge deal of bliss to the two.
Sunnyhaven is dedicated to bringing cheerfulness to our clients and our objective is to continue bringing happiness to them for the years to come.