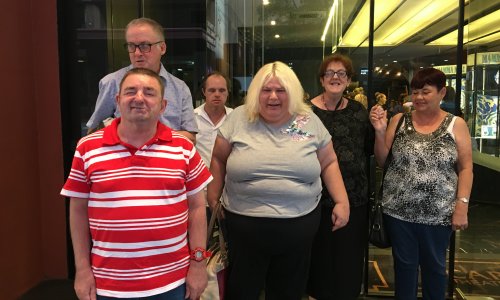 On a Saturday night, Fiona, Marlee, and Maree took 7 other clients to see Mama Mia, the musical. Through these kinds of entertainment, we aim to provide the greatest experiences to our clients. They absolutely love the music and all were very happy!
They were all really excited when we announced that we're going to see a musical. 10 residents were taken to see the stage show Mamma Mia which they thoroughly loved. Everyone was singing to all the songs and a wonderful night was held with Harry, Helen, Glen, Damien, Dianne, Patricia and Bradley.
We are very grateful to Fiona, Marlee, and Maree for taking them in their own time. Our clients' joy is very valuable to us and Mama Mia the musical is a splendid gift to offer to them. Everyone applauded and sang jubilantly as they know all the words to the songs. Our staff had been playing these songs in about a week around-the-clock as per our client's request!
The 10 has a very wonderful time watching the musical and our staff did too. After the musical, they were taken to dinner where everyone bonded well and enjoyed the food served upon them. They had so much scrumptious food and plenty of things to talk about. Harry, Helen, Glen, Damien, Dianne, Patricia, and Bradley together with Fiona, Marlee and Maree all grew up in the songs of Abba and that's why they are so appreciative for the experience. The fun didn't stop at the diner, everyone sang happily on the ride back home and were all very cheerful.
It gives us comfort and enchantment in our hearts seeing our clients happy like this. Our organisers continually explore wonderful activities like this. We are all looking forward to the next recreation dedicated to them.