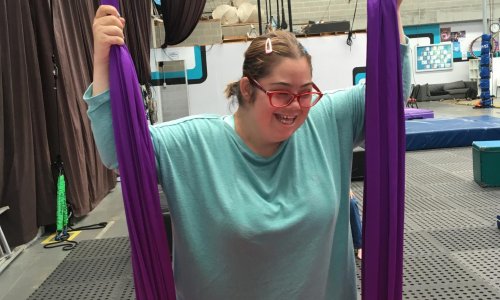 The day everyone looks forward to each week is the Circus day! The community participation program attends circus skills in Canterbury week by week and our objective is to help our clients increase their confidence, have lots of fun, and learn new acrobatic skills.
Our clients were truly excited about the outlook of going to the circus training. We have made sure that they would work with highly accomplished trainers and Circus masters and it was a very enjoyable activity. Our clients loved these kinds of drills so much and Sunnyhaven is very proud to help increase our clients' self-reliance and to discover their capacities.
Every week, our clients would evolve into circus entertainers as they are all delighted of themselves on what the trainers had been teaching them. When we arrive in Canterbury, we were welcomed by the most accommodating front-runners and they are also the reason why our clients love this activity very much. It helps so much when they feel valued and cared for.
The trainers were very willing and genuinely enjoyed helping and coaching our participants. The day was filled with merriment and cheers for one another. The clients appeared overjoyed when the coaches would perform an amazing move. They have assured our clients that they can do it too through practice and that is why everyone got motivated to the week by week session, to practice.
Our organisers operated in common with the circus experts and trainers to secure that our clients can be very safe while enjoying the skill tests. They were all extremely observant and reliable when it comes to looking after the safety of the clients.
Sunnyhaven is dedicated to the happiness and well-being of the lives of our clients and we are glad that this experience was a great one.