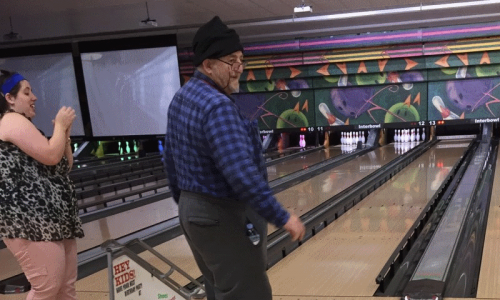 Bowling day is consistently a fun occasion for our clients. There are always big smiles and big laughs every time they go into the bowling alley and start rolling balls towards the pins.
This was especially true last Saturday when we took some of them – Elena, Andrew, Michelle, Stephani, and Juan – to Campbelltown City Bowl.
The moment they knew we were headed for City Bowl, none of them was able to contain their excitement. They talked about how they would get strikes or the scores they wanted to reach. Even on the way, our staff can already see the friendly competition forming.
As soon as we got to the alley, they immediately went to choose their first ball and prepared for the game. There were some struggles with hitting the pins but there were also some great throws too. In the end, everyone was brimming with glee as they were able to have fun and bond with each other. Andrew was especially pleased as he got the highest score at 112!
At Sunnyhaven, recreational activities are important aspects of our clients' overall well-being. Through bowling and other similar recreations, our clients are able to relax, participate, and increase their physical movements. Plus, nothing compares to seeing their faces light up as they enjoy the simple yet rewarding experiences such activities can offer.