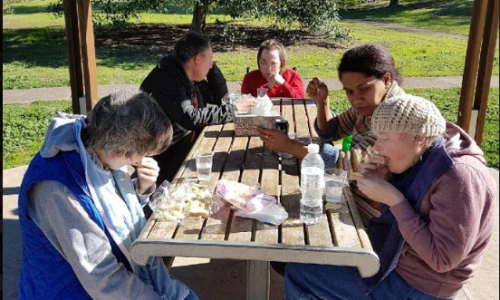 Sunday is always a special day for us. It doesn't only mean rest day, but it's also a chance for us to catch up with friends and families, and enjoy the great outdoors.
And last Sunday, we did just that.
With the golden sun up and high, we took our clients to a park at Princess Street for a Sunday Fun Day. With our delicious packed snacks, we headed to the park just before lunch. As soon as we arrived, we chose a perfect spot where we can have our meal together. Indeed, nothing can increase appetites like a calm environment and a good company.
After our lunch, we strolled along the park, relishing on the lush green scenery. Some of our clients even took some pretty leaves and rocks so they would have a bit of the park to bring home with them. When our feet got tired, we lied down the grass and just watched the fluffy clouds while trying to identify the different shapes they were forming.
Here at Sunnyhaven, we believe in the important role that outdoor activities play in the well-being of our clients. Simple recreations such as this promote healthier active living and create a sense of belonging for them. By just being with friends and enjoying nature together, our clients are able to exercise and relax at the same time – just what a Sunny Sunday is all about.