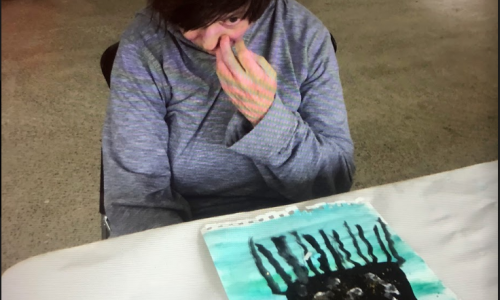 For this Sunnyhaven story, we would like to share with you our recent one-to-one with one of our clients, Sharyin.
We already had one-to-one sessions with Sharyin awhile back, so this time, what we wanted to give attention to is her love and natural talent for art. She was very delighted when we told her about our activity on that day.
We asked what her favorite color and things were and to get her inspiration from that. Sharyin said her favorite color is green and that she loves the ocean, and from that, she can imagine a gigantic octopus living in the deepest part of the ocean. We were very excited to see the results and she got to work the moment we gave her her art tools.
While she was coloring her canvas, we also asked why she loves art. She told us how she likes seeing different colors and shapes. She also shared that art makes her feel very happy and she wanted to become very good at it.
Alas, she really is becoming great with her artworks. After 30 minutes, she showed us what she made and we were very impressed with her creation. We even showed it to the rest of the staff as well as her friends who were all very proud of her.
Our clients are always at the centre of everything we do. And though we often hold group activities, we also make sure that we spend time with them individually, just like what our team did with Sharyin. This way, we are not only able to better assess their progress but also focus on their individual strengths and skills, and together find new things they want to learn and improve on.