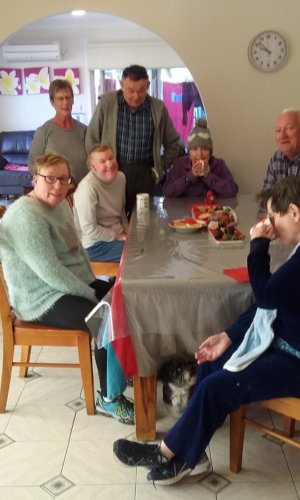 We like to be as welcoming as possible here at Sunnyhaven. Our staff organised for Peta Fenwick, a potential new resident at Princes Street Group Home, to have tea with the lovely current residents Sharyn Roast, Chris Holloway, Jenny Childs and Teresa Godsell.
Peta and her parents thouroughly enjoyed the social occasion, especially the tea and snacks that came with it. If only biscuits could be had at all meal times! All the residents, potential and current, had a blast and really connected.
Having had a wonderful time, Peta is looking forward to another visit shortly. Before Peta left for the day though, she was able to meet "Paris" the dog. Paris is a natural with the residents and took to Peta very well straight away. It really makes our day when we see residents so happy, especially smiles on new faces. We look forward to seeing Peta again.