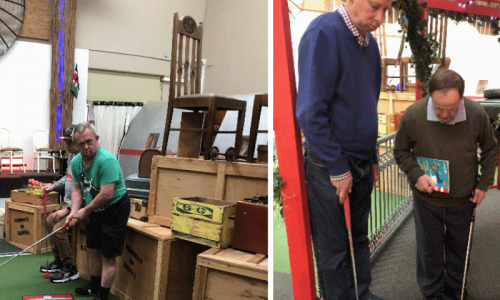 There are a bunch of leisure activities out there, indoors and outdoors, that can not only help you relax but also excite and allow you to engage with family and friends. Given this, we always make sure here at Sunnyhaven that our clients get to spend time doing such activities, so they can continuously exercise, practice their mobility skills and of course, have fun.
One of our favourites is mini golf – a recreational activity enjoyed by almost everyone, from our staff to our clients and their friends. And just a few weeks ago, we took some of the guys out to play and we were very glad to see them all so excited and more than willing to participate. Indeed, it has been a while since we played golf, so each was thrilled to get to hold a club again and hit that tee shot!
When we arrived at the mini golf course, they were immediately given brief instructions and demos on the correct ways of swinging. They were all very attentive and even imitated the staff who were giving the pointers. As soon as the briefing was over, each one took their short clubs and hurried to the course to play.
We were all happy to see them so enthusiastic and even helping each other out to make sure everyone gets to score. The golf course was also full of colors and different designs which made the activity more fun for our clients. Alas, when the day was over, the first thing they told us was: Let's come back here again soon!"