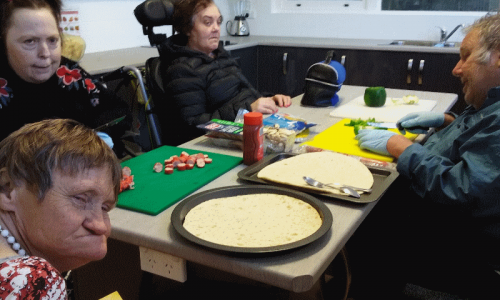 We believe that there's a level of creativity in all of us. Which is why, here at Sunnyhaven, we always encourage our clients to put on their creative hats by doing different arts and crafts activities. And one of the more popular favorite among the clients? What else, but cooking!
Today, our sunny story features the cooking classes we hold regularly for our clients. Before the class starts, we would give the participants the time to look at the list of friendly recipes that we can all cook together, and our staff would discuss with them the cooking processes and the ingredients that we will be needing for each. The usual yummy suspects are pizza, cupcakes, lasagna, meatballs, and waffles.
Besides teaching the class about what ingredients usually go with each delicious dish, our staff also teach them about the different ways of safety cooking. For example, we teach them that they must always wash their hands when handling food, wipe up spills, pick up knives by their handles and to always use oven mitts when putting or getting food from stoves or ovens. We are very happy that every one of our clients is always eager to learn, cook, and eat!
Each class is always a fun experience for everyone. Our clients do not only learn how to cook good food, they also get to practice new independent skills together with their friends, and share with each other the delicious product of their creative labour!