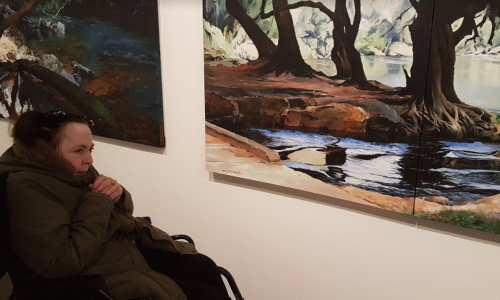 Jenny loves art. She does not only like to look at paintings and other artworks, but she also loves making them. And so to further support her enthusiasm for art and to inspire her, we decided to take her to Casula Powerhouse during her one-on-one.
Casula Powerhouse is a well-known arts centre and like many other museums and art centres, it gives everyone access to the arts with the aim of enriching their lives. Indeed, art has the capability to enrich one's life and we have seen this through our very own Jenny.
As we have expected, Jenny was very pleased when we took her to the Powerhouse. We toured her around a number of galleries and she enjoyed appreciating various paintings and other artworks on display. She even told us some of her favorites which include the one in the featured image above, and how they made her feel. We also took her to their garden so she can enjoy the sun and the green open space. Afterward, with still a lot of energy left, we went to Woolsworth so she can do some grocery shopping.
At Sunnyhaven, each of our client's journey is important to us and few of the ways that we help them achieve their goals is by helping them build on their strengths and interests through fun trips and activities and giving them a way to engage with their local community.