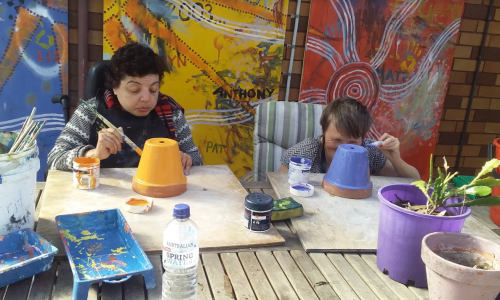 Doing arts and crafts is always a fun and a favorite activity of our clients here at Sunnyhaven. We always get active participation from them and is a great form of entertainment as well. Besides this, arts and crafts are also a great way in allowing them to be more expressive, imaginative and to develop both their thinking and coordination skills.
This week, we want to share our arts and crafts activities that are helping to build the strengths of our clients and enhance their skills. These would usually include painting, drawing, scrapbooking, and mask making and coloring. For example, we would give them household items such as flower pots that can use some transformation. We give them paints and brush and they have all the freedom to mix colors and come up with ideas that can give the pots a better look. Another example is making a paper mache mask and giving it to them for decoration. And sometimes, if they're up for it, they even volunteer to make the masks themselves – a really fun way to explore and create something new.
Seeing them participate actively and bring out their creativity really makes us happy. We couldn't be any prouder every time they complete a project and get to share it with others. Truly, arts gives everyone a chance to express themselves and even build their confidence, altogether adding color for a more fun-filled life!