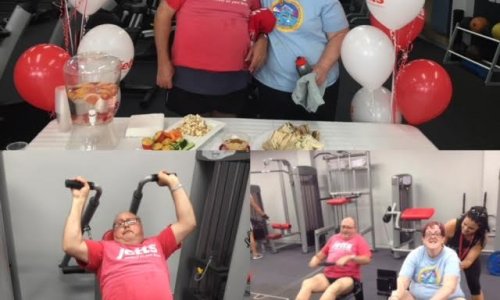 What a magnificent Monday! Our residences turned into fitness experts as our gym sessions had started.
The group got into the service bus on the way to the gym. They were all so eager and cheerful to be boarding the bus. The whole travel time was filled with laughter. We asked them if they were ready for today's gym assembly and they all answered "yes" in the most animated tone possible.
As we entered the gym, we were welcomed with balloons arranged by the coaches and instructors who were all very lovely and hospitable. It was so nice to see how they are all genuinely happy to assist our residences. Our clients had individual trainers in charge of them. Minutes later, they all looked like professionals in operating each piece of gym equipment. They began to lift some weights, run on treadmills and operate the motorised bike.
Our staff worked hand in hand with the gym mentors to guarantee that our clients will have the time of their life while being truly safe. They were all very keen on looking after our well-behaved clients.
Our clients learned a lot from this experience. They learned how to maneuver the equipment, which exercises would develop the different parts of their bodies, and they were also educated about the healthy nutrition they can follow subject to their goal.
They have tested out all the gym equipment in the room and were all very fascinated. They seem to have enjoyed the activity so much, sweat did not stop them. The instructors confirmed that they were all safe and were constantly hydrating.
Afterward, they all had a lunch out where a yummy meal was laid out for them as they talk about their amazing experience in the fitness centre today.