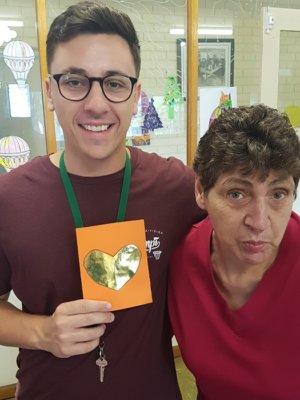 The CAS staff and clients welcomed Jack Neggo into the team in June 2016 and over the course of the year he has built and maintained great working relationships with many of them. Jack's skill and capabilities have been put to good use and he has learnt a lot from his stint at Sunnyhaven. Jack is in his third year of Masters in Primary Teaching and chose to work at Sunnyhaven to gain an insight into how to educate and support individuals with a disability. Jack feels he has gained a wealth of knowledge both practically and theoretically in his time at CAS that will support him in his teaching career. Skills like learning not only just to teach but also to handle persons with disability will take him a long, long way.
For the past four months during his Uni break, Jack was able to work four days per week until March 2017 when his study commitments made it so that he could now only work two days in a week. The clients and staff shared a morning tea and Rhonda Frost presented him with a card that she had created to wish him luck for the coming year. His absence is felt by all, more noticeably when certain individuals seek him out or inquire as to his whereabouts. He is someone who will be dearly missed as he was not only a great teacher but also someone who was kind and caring; who stopped at nothing to give Sunnyhaven the very best he could give.
Jack's service to Sunnyhaven has left an indelible mark on us and we wish him only the very best.
GOOD LUCK FOR YOUR LAST YEAR JACK.