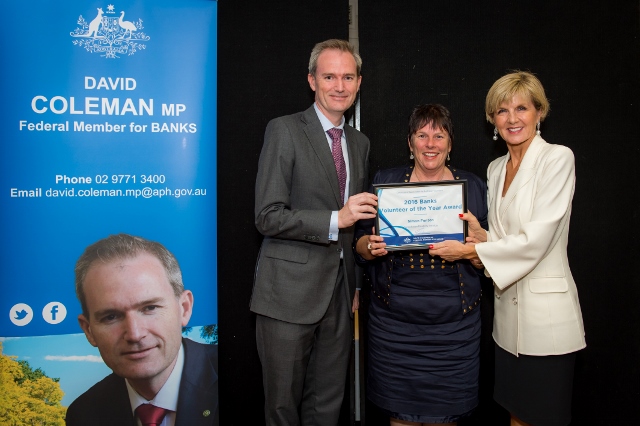 2016 Banks Volunteer of the Year Awards
7 Apr 2016
What a day for Simon Fenton and Sunnhaven Disability Services! Simon was awarded a 2016 Banks Volunteer of the Year Awards at an Awards ceremony hosted on April 6 by David Coleman MP.
Attendees were entertained by SING Australia and an address by a special guest. Minister Julie Bishop presented the Awards to the nominees and gave a speech emphasising the importance of volunteering to modern Australia.
"These awards enable local community organisations to publicly recognise the large contribution made by volunteers", Mr Coleman said
"It was great to have Julie Bishop to present these Awards to the nominees".
Julie Harris from the Rotary Club of Padstow has been named the 2016 Banks Volunteer of the Year. Mrs Harris was nominated by the Rotary Club of Padstow for her dedication to the organisation and the local community.
"Mrs Harris is the President of Padstow Rotary and has been instrumental in the Club's fundraising efforts. She is a very deserving winner", Mr Coleman said.
Padstow Rotary raises funds for polio eradication through hosting BBQ events, fun runs and community carols nights. Mrs Harris is also involved in the Padstow Chamber of Commerce.
https://www.davidcoleman.com.au/media/media-releases/padstow-community-volunteer-wins-banks-volunteer-year-award